it's awesome affordable house week!
There was overwhelming response to the cry for help for the Roush house and it worked……looks like it is sold and hopefully to sympathetic buyers.  But there is more!  Another awesome modern is available at the incredible price of $139,900!  What is going on out there!?  This one is one of the nicest quality houses I have seen in a long time – a custom built dream home from 1958.  From the front, it is an unassuming ranch with some unfortunate exterior modifications (truly unfortunate garage doors on what used to be a carport, awful sidelite with brass inlay next to the front door…….) but look past all that to see a wonderful home that on the inside is remarkably untouched and well preserved.
what the exterior used to look like……….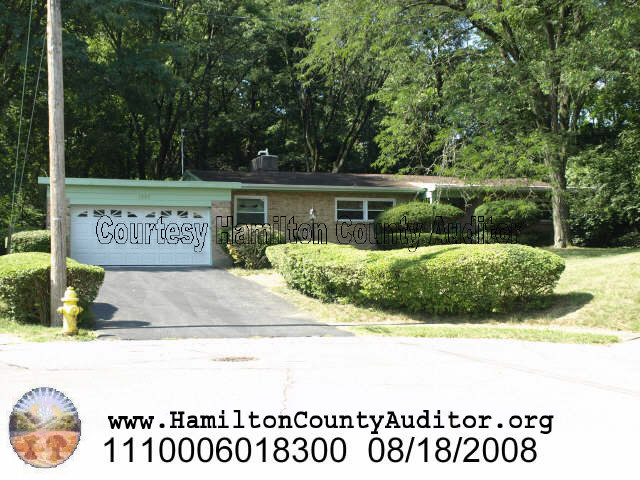 ……and what it looks like now. ouch!
It is a very spacious 2 bedroom + study, 3 full bath home with 2 car garage and a partial basement on a very private 2/3 acre lot – and only 10 -15 minutes to just about anywhere (downtown, kenwood, rookwood, ikea).  Huge kitchen with original hard rock maple cabinetry, custom copper hood, double wall ovens, stainless fridge.  All new insulated windows and newer furnace and air.  Also has two fantastic original Crane baths in near perfect condition.  But the show stopper is the great room & dining room.  Wow!
The house is located in Paddock Hills, home to architect and blogger Chris Magee and several other midcentury enthusiasts.  There are several Ben and Abe Dombar homes in the 'hood.  I'm not sure who designed this one – it does not look like a Dombar to me.  It backs up to Avon Woods nature center.  Really nice park-like yard right in the city!  This one really deserves to go to an owner who will really appreciate the Atomic Ranch that it is.  It is not our listing, but we would love to show it to you!
There is also another MCM right by the Roush house that just came on the market yesterday.  Supposedly this one is a Roush design, too.  It was owned by the guy who owned the Roush house – and it is also a foreclosure.  It's on the same private drive.  This one is rough – needs lots of work, but has a great corner fireplace and a vaulted wood beamed ceiling throughout.  Could be stunning!  3 bedrooms, 1 bath on slab.  No garage.  2.7 acres.  Listed at $124,900.    Again, it is not our listing, but call or e-mail us if you want to see it!
With these great affordable listings out there – and the tax credit – this is the perfect time to get into the MCM market!
Update on Tuesday, May 18, 2010 at 8:07AM by
These houses are sold or pending, hopefully to sympathetic buyers!
modern books
50 from the 50s: modern architecture and interiors in cincinnati udo greinacher, elizabeth meyer, susan rissover, patrick snadon, margo warminski, 2002
atomic ranch midcentury interiors michelle gringeri-brown (author), jim brown (photographer), 2012
implosion elizabeth garber, 2018
charley harper, an illustrated life, todd oldham & charley harper, 2007
about design: insights and provocations for graphic design enthusiasts, gordon salchow, 2018
cincinnati's terrace plaza hotel: an icon of american modernism, shawn patrick tubb, 2013