successful selling the cincinnatimodern way!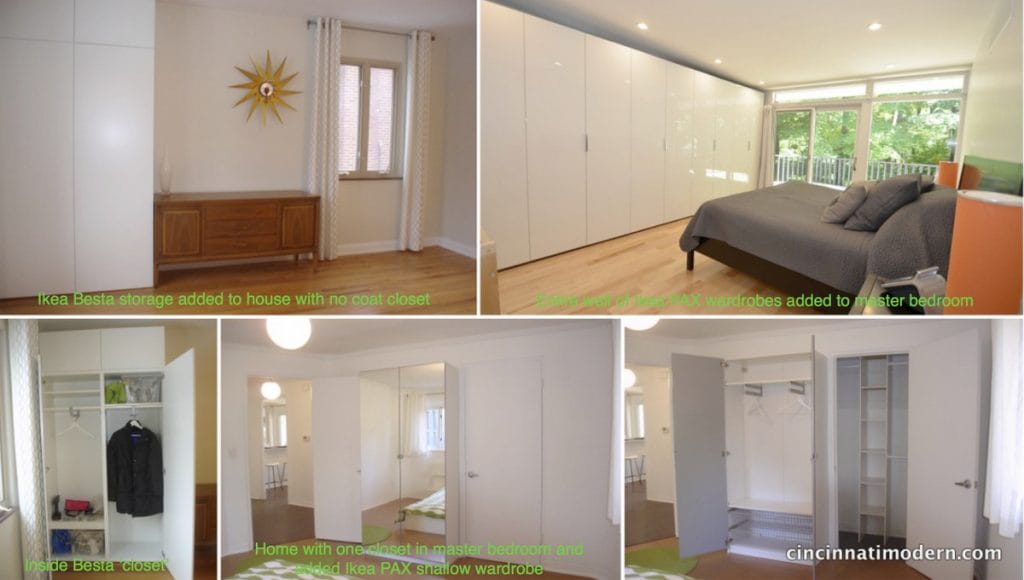 getting ready to sell? storage is a huge selling point! if you don't have enough, consider adding 'built in' storage.
After 5 years of being in a buyer's market, we all of a sudden find ourselves in a seller's market.  Low inventory and interest rates, and rising consumer confidence have contributed to the best market we have seen in years.  We have given a lot of advice about how to be prepared to buy, but are you prepared to sell?  Homes selling above the asking price and multiple offer situations are once again common.  How do you position your house in the market to get attention and bring the highest possible price?
We are, for the first time ever, going public with our 'How to be a Successful Seller' tip sheet, summarizing our best advice from 10 years of experience in the industry.   We are pretty darn good at getting attention for our listings, especially when sellers are willing to play by our rules.  We hope you find this helpful, and will call us when it comes time to list your house.  Now is the perfect time!
Tips for being a Successful Seller
aka: 'what to expect when you are selling'
We put the following document together to answer common seller questions and to raise issues you may not have thought of.  Some items may apply to you and some not, but hopefully this list will help make the selling process a little easier for you.
Stage your house for selling – not for living.  Edit your furnishings, decorative items and photos to a minimum.  We want buyers to be able to picture themselves and their things in your house and too much decoration can be distracting.
Make your entry as welcoming and perfect as possible.  Paint the front door if necessary, plant flowers in pots.  New address #s and a new door mat can go a long way.  And make sure the key works easily in the door!!!!
Remove wallpaper if possible.  Wallpaper is highly personal.  We do not want a potential buyer to disregard or de-value your house because you don't share the same taste in wallpaper.  Neutral painted walls are a much safer choice!
Clear refrigerators of all magnets, calendars, photos, etc.  A clear fridge makes your kitchen look larger and cleaner and is not distracting.  Notice our listing photos never have distractions on the refrigerator.   If you don't remove them, we will!
Keep kitchen & bathroom counters very minimalist.  Put daily items in a basket that can easily be stowed in a closet or cabinet for showings.
Make sure closets are not overstuffed (yes, buyers will open your closets).  Moving is a great time to purge.  If you can't get rid of items, then rent a storage unit.  Store out of season clothes and coats off site.  You may also need to store some toys and kids items.  We want buyers to think that you have ample storage space in your house – not that you are 'maxed out.'  If your house is lacking in built in storage, consider adding Ikea wardrobes that will stay with the house.  Storage is usually very high up on a buyer's list of must haves.
Be extremely flexible for scheduling showings.  Try not to deny a showing because you never know if it will be rescheduled. Respond to showing requests promptly.
NEVER be home for showings.  Buyers will not spend adequate time in the house if you are there or waiting outside.  We want buyers to feel free to look around and experience the house without time constraint.  Most showings are scheduled in 1 hour windows, and you should plan on being out of the house for about an hour and a half – including 15 minutes before and after the scheduled time.
 Before you leave the house for a showing, turn all lights and lamps ON.  You can place a small sign by or on the inside of the front door if you would like agents to turn lights off upon leaving.  Agents usually leave lights on if they find them that way because they have no way of knowing if you have more than one showing scheduled.  Also make sure the AC or heat is set to a comfortable temperature (sometimes higher or lower than you would normally keep it).
Always check to make sure all your outside doors are locked after showings.  Agents sometimes don't know that a buyer has opened a door and may think everything is locked when it is not.
NEVER directly solicit showing feedback from an agent.  We have a feedback system in place to get the most honest feedback possible.
The online feedback form that agents fill out is very brief, with space to add comments at the end.  This feedback will be forwarded to you.  The feedback may be from the agent based on his or her knowledge of comparable properties or the agent may use the feedback form to reflect his or her client's reaction to the house.
Take all feedback with a grain of salt!!  Do not take individual feedback too seriously.  What we are looking for is trends.  If the feedback from several showings says that the living room carpet is awful, then by all means, address the living room carpet.  Individual tastes will vary and so will reactions to houses.  Look for trends and be prepared to react to things that can be changed.
This may be our #1 rule: Do Not argue with or get upset by feedback! Even if you don't agree with it, someone else's perception of something is their reality, like it or not.  If an agent states something in feedback that is obviously not true or needs clarification, we will follow up with them.
Home odors are a common feedback topic.  Some buyers are much more hypersensitive to smells than others.  Run a dehumidifier in summer months if you have one.  Ozone treatments can remove smoking odors.  Clean and fresh is the key – use deodorizers if you have to but make sure they are not overwhelming.  Do not leave candles around or burning during showings.  This just looks like you are trying to cover up something.
Some buyers are very sensitive to animals and if they can see that you have an animal, they may smell the animal (real or imagined) or 'feel their allergies coming on.'  Pet owners are often desensitized to hair and odors.  Be extra vigilant while your house is on the market  keep the house smelling fresh and well vacuumed.  Keep litter boxes out of sight!  If your kitty is a kicker, we recommend the 'Clevercat Top Entry Litter Box' available from Amazon or www.clevercatinnovations.com .   We have two and use them without liners.  It's amazing.  Best $30 ever spent!
Pricing and Price Reductions – Rule of thumb in the industry is that you should be getting 1-2 showings a week on your listing.  If you are not, then your price is probably too high.  ALSO, if after 8-10 showings you do not have an offer, then your price is most likely too high and a price reduction is in order.  The 3 main factors that determine value and marketability in real estate are: condition/price/location.  You can only change two of those factors!
INSPECTIONS – Once you have an accepted offer on your house, the buyer will most likely schedule an inspection.  The seller should never be home for the inspection!!  The inspector will use the lockbox (or other approved way) to enter the house.  If you have any pertinent information that would be helpful to an inspector (engineering reports, waterproofing warranty, termite contract, etc.), you can leave copies of these out during the inspection.  Also, make sure you have taken care of any maintenance items that you know of.  Put in a new furnace filter before the inspection, and make sure that there is clear access to the crawl space and attic if you have one!  An inspection typically takes at least 4 hours.  This is time for the inspector and the buyer to investigate the house and most importantly, for the inspector to develop a rapport with the buyer so they can explain issues or maintenance items in a non-threatening way.  The buyer often does their real 'bonding' with the house during this time.
If a buyer orders a radon test, this is typically set up 3 days prior to the whole house inspection and picked up during the inspection.   You can just go about your business while the radon test is in place, but you cannot leave doors or windows open – this can cause a false high reading.  Just follow the instructions that the inspector leaves while dropping the test off.
After the buyers gets the inspection report, they will usually submit an post inspection addendum requesting repairs, clarification, or possibly a price concession.  This is all part of the negotiation process.  The purchase contract will state how long a buyer has to complete inspections and submit the addendum, and how long the seller has to respond.  Sometimes an extension of the inspection period is necessary to get additional bids for repairs.  A seller home warranty can be very helpful in the negotiation and inspection process.  It covers the seller while the house is on the market and covers the buyer for one year after closing.  They often cover repairs of defects discovered during the inspection.  We highly recommend that all of our listings have home warranties, and we can arrange for this at listing time.
After the inspection period is over, an appraiser will schedule an appointment to go through the house.  This takes ½ hour or less.  The seller may or may not be home during this visit.  Most appraisers have keypads to enter via the lockbox.  If possible, try to leave the house 'intact' and not start disassembling and packing until after this (hopefully) final step in the sales process.   We usually meet the appraisers at the house to answer any questions they may have and to educate the appraiser about architecture if necessary.
modern books
50 from the 50s: modern architecture and interiors in cincinnati udo greinacher, elizabeth meyer, susan rissover, patrick snadon, margo warminski, 2002
atomic ranch midcentury interiors michelle gringeri-brown (author), jim brown (photographer), 2012
implosion elizabeth garber, 2018
charley harper, an illustrated life, todd oldham & charley harper, 2007
about design: insights and provocations for graphic design enthusiasts, gordon salchow, 2018
cincinnati's terrace plaza hotel: an icon of american modernism, shawn patrick tubb, 2013