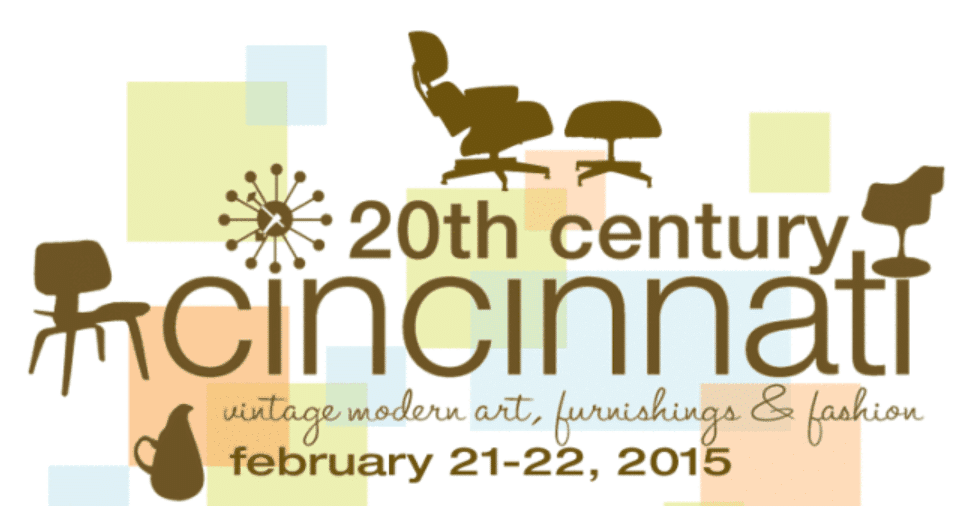 The older I get, the more I hate Winter.  I actually like the snow (I am, after all, from the north), but the endless grey days are what really get to me.   But every year there is a bright spot that I actually look forward to in Winter –  the 20th Century Cincinnati Show –and it's next weekend (Feb. 27 & 28) at the Sharonville Convention Center.  This is the 16th annual show and I have been a show sponsor for the past 6 years.  I don't think I am alone in saying it is one of my favorite weekends of the year.
A mere $7 admission ($25 for the Java Preview) gets you in for both days!  Anyone who is anyone in the modern community is at this show – you are sure to see someone you know.  It's also a big regional draw with lots of folks attending from Dayton, Columbus, Louisville, Indianapolis, and Chicago.  In addition to lots of great booths with furniture (from local and distant dealers), there are vintage clothing booths (my daughters' favorites), jewelry booths, plenty of tchotchkes and perhaps my favorite, the Harper Art Studio (the art of Charley, Edie and Brett Harper).  Special guest this year is the Higgins Glass Studio, who have been cranking out modern glass designs since 1948.
As a show sponsor, I have a booth (ok, it's more of a table…..) where you can do a little window shopping for some of Cincinnati's great modern architecture.  I will also have complimentary copies of Atomic Ranch and Modernism Magazines to hand out (just made that $7 admission even more reasonable 🙂 – so please stop by my booth and say 'hi.'   Also, don't miss the cf3 architecture exhibit, back by popular demand.  It's a great opportunity to get an inside look at Cincinnati modern houses and the designers behind them.
Another great thing is that the show goes on snow or shine –  so dust the snow of the SUV and make the trek out to the Sharonville Convention Center (plenty of free parking) and spend the day inside, in our own little time warp.
Check out my friend Chris' blog about the show and  photos of his 20th Century Cincinnati Show finds (www.cincinnatimodernation.blogspot.com ).  Here are a few of our show purchases from years past……
modern books
50 from the 50s: modern architecture and interiors in cincinnati udo greinacher, elizabeth meyer, susan rissover, patrick snadon, margo warminski, 2002
atomic ranch midcentury interiors michelle gringeri-brown (author), jim brown (photographer), 2012
implosion elizabeth garber, 2018
charley harper, an illustrated life, todd oldham & charley harper, 2007
about design: insights and provocations for graphic design enthusiasts, gordon salchow, 2018
cincinnati's terrace plaza hotel: an icon of american modernism, shawn patrick tubb, 2013